Setting up your player in Connected mode
Overview
This article explains how to set up your Screenspace digital signage player using a USB drive. Use this method to set up individual players for use on specific Wi-Fi networks at different locations without having to visit each location individually.
Get started with your player in three simple steps:
Create a setup file and copy it to your USB drive
Connect your player to the internet
Connect your player to your Screenspace account
In order to proceed you will need your Screenspace digital signage player (see our image below) and your login details for the Screenspace CMS.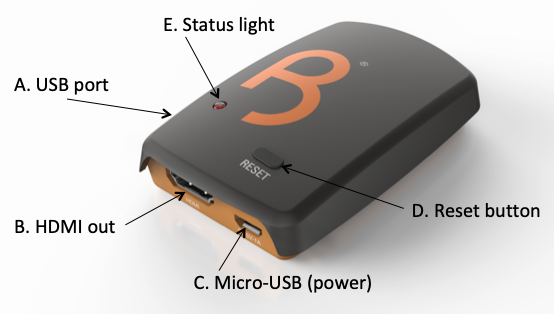 Step 1
In the Screenspace CMS, click on 'My Account', and then 'USB Setup'.
Enter the Wi-Fi SSID name and password for the network where your player will be located
Enter your Screenspace username and password
Confirm the timezone where your player will be located
Set your desired Player Orientation
Set your desired Player Resolution
Click on 'Create Profile' and an encrypted file containing your setup details will be downloaded to your computer (player.conf)
Step 2
Transfer the config file from your computer to a clean FAT32 formatted USB drive.
We recommend using a USB drive with an indicator light that flashes to show that your USB drive is being read by the player.
Important: 
If you rename the setup file, use alphanumeric characters only and no spaces.
Only transfer one config file to your USB drive.
Make sure your USB drive is FAT32 formatted. Mac users may need to format their device.
Remove the USB drive after setup.
Step 3
Please follow these steps to set up your player: 
Connect your screen to your digital signage player using the supplied HDMI cable (B. HDMI out)
Insert the USB drive into the player's USB port (A. USB port)
Connect the supplied micro USB power cable to the player (C. Micro-USB power)
 A message on the screen will confirm that the configuration has been successful.
Once Screenspace re-starts, the default playlist will start to play:
The player can now be moved to its final location, where it will automatically connect and start playing the default playlist.
Important:
Please be aware that the player needs to be at the correct location to be able to connect to the network.
Remove the USB drive after the player has been setup.
Step 4
In the Screenspace CMS, click on the Screens tab.  If your player has connected successfully to the WiFi and your Screenspace account, it should now appear in the CMS.
If so, you can now create and publish content to it directly from the Screenspace CMS. 
Publishing content in portrait
If you intend to use your screen in portrait orientation (9:16) you need to perform some extra steps. See our short guide here: Portrait mode
Troubleshooting
If the player fails to connect and the screen does not appear in the CMS after 30 seconds please manually reboot your player, pressing the reset button for 5 seconds. Please also make sure the USB is FAT32 formatted and there are no unusual characters in the configuration file filename. As the file is encrypted, you won't be able to double check the network and Screenspace details you entered. If unsure whether you entered the correct details, you can create a new configuration file in the CMS and repeat the process.
Changing passwords
If you change either your Screenspace account login details or your WiFi credentials, you need to setup your player again. First you need to Reset your player (See how to do that here). Once that is done, you need to create a new USB setup file and go through the steps detailed above. 
Related articles